Testimonials
"In my professional opinion, the American Institute for Cancer Research is one of the best resources for comprehensive, evidence based information on nutrition and cancer. The AICR does an excellent job at translating what can be complex research regarding nutrition and cancer into clear, understandable terms for patients, caregivers, and other clinicians. The pamphlet and online resources provided by the AICR have been immeasurably helpful in my practice as an oncology Registered Dietitian."

Lauren Fay, RD, CSO, CNSC Oncology Dietitian Clinical Specialist Inova Schar Cancer Institute

"At The Gathering Place, whether we're building a new program on a healthy, plant strong lifestyle for cancer survivors or teaching hands-on cooking classes, the resources at AICR are always helpful. AICR's evidence-based information delivered in a user-friendly, nonjudgmental way help our participants achieve their lifestyle goals."

Beth Bennett, PT, MA, MS, RDN, LD Chief Program Officer The Gathering Place

"The AICR brochures are packed with useful information. I am always using their research on nutrition to help guide my patients."

Carrie Smith, MS, RD, CSO, LDN Clinical Dietitian Duke Raleigh Cancer Center
Empower your patients with AICR's educational materials.
AICR's resources provide clear, easy-to-understand information drawn from the latest research on nutrition, physical activity, weight and cancer.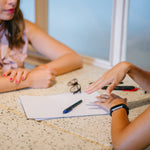 Our Vision:
We fund cutting-edge research and give people practical tools and information to help them prevent and survive cancer.
Our Mission:
We champion the latest and most authoritative scientific research from around the world on cancer prevention and survival through diet, weight and physical activity, so that we can help people make informed lifestyle choices to reduce their cancer risk.
Visit our main website at www.aicr.org for more information.